Dotonbori Tourism DX Project - Phase 2! New entertainment experience "Dotonbori XR Park" will be provided▶JTB・NTT docomo
2022.03.15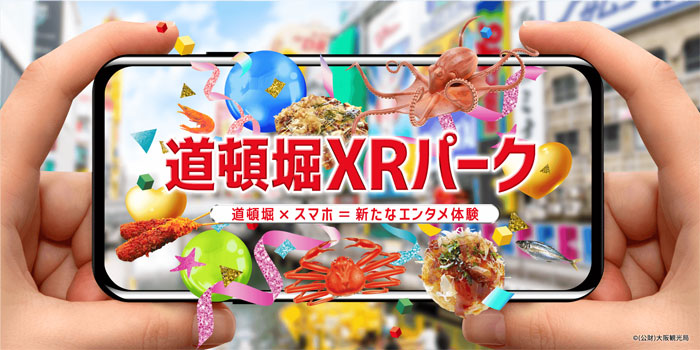 Offering a new sightseeing experience in Dotonbori with AR digital contents and VR
Tourism DX demonstration "Dotonbori XR Park" will be held in Dotonbori, Osaka from March 18, 2022 (Fri) to April 10, 2022 (Sun).
This demonstration seeks to enhance the appeal of visiting Dotonbori and bring more visitors to the shopping district, offering both tourists and local residents new ways to have fun in Dotonbori.
AR digital contents will be incorporated into the Dotonbori shopping street and Tonbori River Walk for a new entertainment experience just for visitors that blends virtual with reality, with information provided on how to enjoy shopping and dining safely even with COVID-19.
"Virtual Dotonbori" will also be developed to further convey the new charms of the city, featuring games and a tour of Dotonbori in a virtual space.
AR Entertainment Experience

Virtual Dotonbori
During this time, the Dotonbori shopping street will be reproduced as a 3D model in the virtual space.
You can explore the Dotonbori shopping street with your own personal avatar by accessing the event page with your smartphone or computer.
https://lp-virtual-dotonbori.com/

Click here for details on "Dotonbori XR Park" and events
Click here for the "Dotonbori XR Park" news release
Click here to download the app iPhone≫|Android≫
*[iPhone Version] The app will be available to download from March 15 (Tue), but it will have full functionality from the event date of March 18 (Fri) at 10:00.
*[Android Version] The app will be available to download from March 18 (Fri) at 10:00.