Dotonbori Tourism DX Project - Phase 1! Holding an event with face recognition payment service! ▶ Panasonic
2021.11.26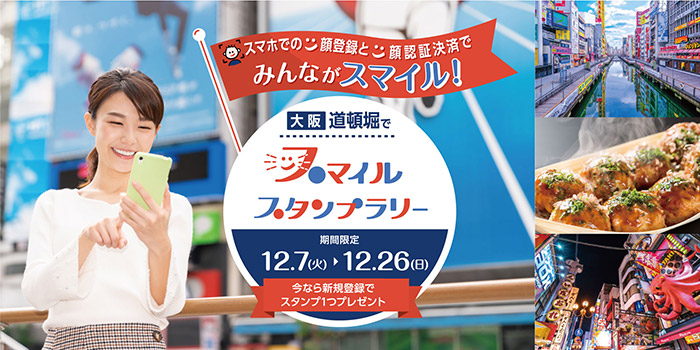 This is being done for the first time in a shopping district in Japan! Offering a new way to enjoy Dotonbori by making use of face authentication and AR.
From Tuesday, December 7th to Sunday, December 26th, 2021, the charm of Dotonbori will be shared by offering AR/VR content that utilizes face authentication and providing benefits by making payments via face authentication at multiple stores in the shopping district. A safe and convenient sightseeing experience, by having non-contact services and improving accessibility of the entire area, will be provided, while holding a lottery event where prizes will be given in the style of a stamp rally.
This will be the first attempt to make payments via face authentication in a shopping district in Japan. The aim is to build a new model for tourism, that is a tourism service where you don't need to bring anything with you, by implementing it in Dotonbori which represents Osaka as a tourist spot.

Click here for the web portal, "Smile Stamp Rally in Dotonbori, Osaka", which is an event by services where you can make payments via face authentication.
Click here for the news release of the first phase of the Dotonbori Tourism DX Project